A long time ago, we made a choice not to sell dogs or cats in our stores.
Instead, we're advocates for pet adoption, and our stores proudly partner up with rescue groups in Australian communities to promote perfectly lovable rescue pets and just how great they are!
Whether it's by holding in store pet adoption days or various fundraising and awareness activities, we're devoted to helping give homeless pets a voice and find forever families.
PETadopt not only saves lives but educates the community about adoption, responsible pet ownership and the wonderful work of our rescue group partners!
For more information on pet adoption and support resources, please visit: https://www.petstock.com.au/services/pet-adoption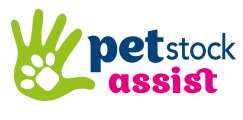 PETstock Assist
More Info about our charity foundation and how we're helping pets in need right across Australia can be found here: https://www.petstock.com.au/assist

Thinking of expanding your family by adding a member of the furry, feathery or scaly kind?
Your local PETstock team can recommend rescue groups and shelters in your area or you can start searching now by visiting our major charity partner, https://www.petrescue.com.au/
We'll be here to support you after you've introduced your new pet into your family!